Aston Martin DBS V12
The modern Aston Martin DBS V12 is a high performance GT sports car version of the DB9 from the UK manufacturer Aston Martin. Aston has used the DBS name once before on their 1967–72 grand tourer coupe. The modern car replaces the 2004 Vanquish S as the flagship of the marque.
It was officially unveiled at the 2007 Pebble Beach Concours d'Elegance on 16 August 2007, which featured a brand new exterior colour, a graphite grey with a blue tint which has been dubbed "Casino Ice". Delivery began on 2008 Q1.
The car is built in Gaydon, Warwickshire. Its engine is built at the Aston Martin engine plant in Cologne, Germany.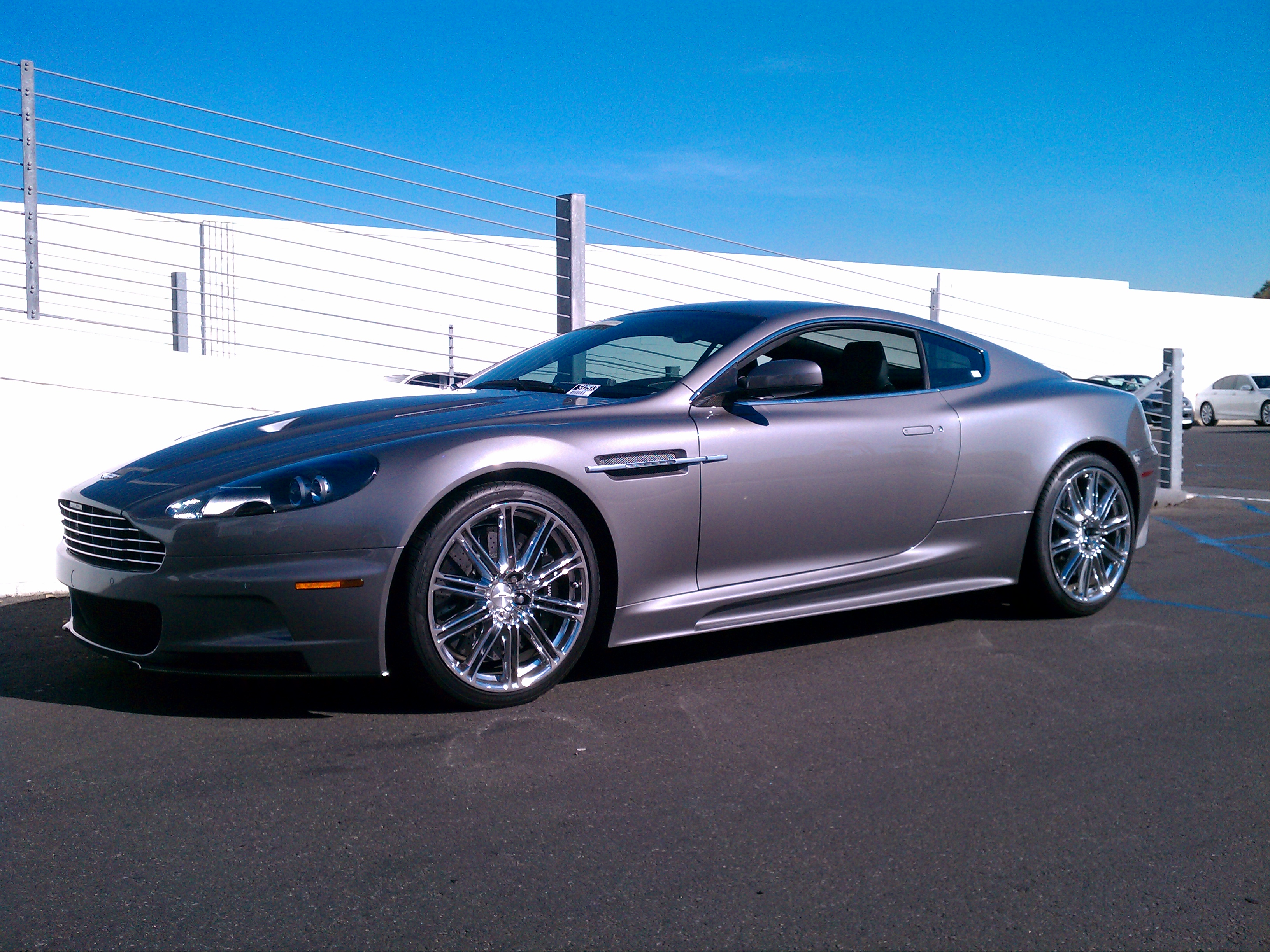 Specifications
Engine: 5.9 Litre 48-valve V12
Transmission: 6-Speed Manual (optional 6-Speed Automatic)
Drivetrain: RWD (Rear Wheel Drive)
Kerb Weight: 1,695Â kg (3,740Â lb)
City fuel economy: 12Â mpg-US (20Â L/100Â km; 14Â mpg-imp)
Highway fuel economy: 18Â mpg-US (13Â L/100Â km; 22Â mpg-imp)
Horsepower: 510Â hp (380Â kW; 517Â PS) at 6500 rpm
Torque: 420 lb·ft (569 N·m) at 5750 rpm
Wheelbase: 107.9Â in (2,741Â mm)
Length: 185.9Â in (4,722Â mm)
Width: 75.0Â in (1,905Â mm)
Height: 50.4Â in (1,280Â mm)
Performance
The DBS is equipped with 5935 cc V12 engine with four valves per cylinder. The same engine is also used in the DBR9 and DBRS9 racing cars albeit with extensive modifications. The engine of the DBS produces 510 horsepower (380 kW) at 6500 rpm and 570 N·m (420 lb·ft) of torque @ 5750 rpm with a compression ratio of 10.9:1. The engine also includes an active bypass valve which above 5500 rpm opens and lets more air into the engine resulting in increased performance and propels the car from 0-62 mph in 4.3 seconds and has a maximum speed of 191 mph (307 km/h) and 183 mph (295 km/h) with TOUCHTRONIC 2' transmission. In 2007, the British motoring show Top Gear sent the DBS around their famous test track and recorded a lap time of 1:23.9; 3.2 seconds faster than its predecessor the Vanquish S, and a second faster than the comparable Bentley Continental Supersports.